Shigeharu Aoyama (President, Director of Social Sciences)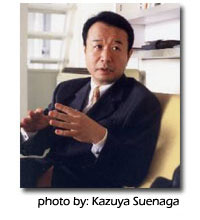 After working as a reporter in the business news department and political department of Kyodo News, and as a professional researcher for Mitsubishi Research Institute (responsible for national security, anti-terrorism policies/crisis management, foreign policies, politics), Shigeharu Aoyama founded Japanfs Independent Institute.
He now engages in the public debates on strategy building, foreign policy and crisis management issues and lectures privately on these topics to a variety of governmental agencies, local governments and private companies. He contributes to training courses for the upper echelons of the Japan Defense Agency. Since 2003 he has also been designated as an Official Member of the Advisory Committee (Natural Resources and Energy) to the Minister of Economy, Trade and Industry. This position, which involves responsibilities for energy security, is pro bono.
Shoichi Ide (Director, Research Adviser)
Served as a member of the House of Representatives (Representative of the New Party Sakigake), and also as Health and Welfare Minister.
Dr Chiharu Aoyama (Director, Director of Natural Sciences)
Received a Ph.D. from Tokyo University of Fisheries specializing in marine acoustics and marine physics. She is an expert in seagoing, marine vessels and regulations in maritime affairs, with a seamanfs competency certificate. At present, with a grant-in-aid for scientific research from the Ministry of Education, Culture, Sports, Science and Technology, she is engaged in collaborative research projects on the marine environment at the universities of Tokyo and Kumamoto and provides technological guidance to students.